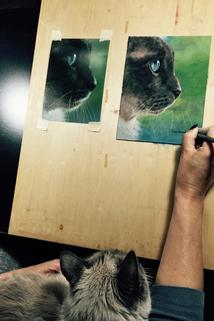 Morning light is the best light - try to avoid overcast mornings.

Zoom in on the subject - have the face take up the entire lens of the camera.   Take close up pictures of the eyes, nose and mouth.  Photos of the eyes are the most important for my style of painting.

Digital photos - full size are the best.   Usually I prefer to work with 8 to 10 photos.   Regular film photos are okay.

If the subject is no longer with us - please provide me with as many photos as possible since one photo will most likely not capture all the detail I use to create the painting.

Each commission piece is priced by  size, number of subjects in the painting and the complexity of the background.    All paintings will have a full color background.

Prices do not include shipping, insurance, framing or tax (for Texas residents).

Please refer to the images on the various galleries for examples of portraits completed.

Commissions by Dawn Secord

Commissions exclusively are done from photographs.    Photos may be either supplied to me or taken by me if you live locally in the Dallas area.  Please feel free to call me or email me should you have questions or want to schedule a commissioned painting.

Studio Line:   909-544-1661

Email:   FFF@LinkLine.com

Mailing Address:

Dawn Secord Gallery LLC

P O Box 700

Westminster, Texas 75409


For larger sizes, please email me.  The above purchase buttons do not include shipping or Texas sales tax.  Those fees will be charged, if applicable, before shipping.